What Is The Engagement Rate And How Does It Increase Your Income?
It does not matter if your goal is to increase sales, whether you want to increase your followers or whether you want to sell your page at a reasonable price. In any case, you need to know what Instagram interaction rate is, how it is calculated and how we should increase it.
In other words, if you are not familiar with the subject of interaction in this social network, you can not have effective marketing in it. One way to increase user engagement is to make your page more optimistic. For this reason, I recommend that you read the article " Optimize your page to attract more followers. " So join me in this article to learn all about Instagram engagement rate and techniques to increase it.
What is the Instagram engagement rate?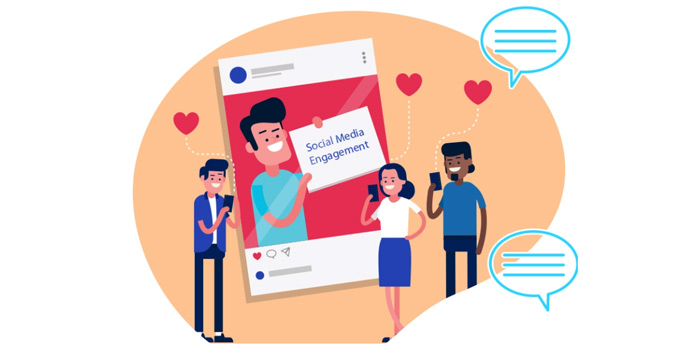 You see, engagement means engagement and communication that your audience has with you and your brand. Now when it comes to Instagram interaction, we have to see how the audience can interact with us on Instagram at all. In general, the methods and factors of interaction on Instagram are:
like,
comment,
Post sharing,
Send direct,
Save posts,
Replay your stories,
Click on the bio link,
Click on the story link,
Use your brand name on other pages,
Linking to your page on other pages,
And… .
So by now we know what interaction is on Instagram. But a more important question, why is interaction important at all?
Why is interaction on Instagram important?
In general, interaction on Instagram is important for two reasons. First of all, Instagram algorithms decide whether to grow a page in relation to its interaction. This means that if the post you publish has both high likes and comments and receives other interaction factors, the algorithms will first take it to the Explorer section, or the magnifying glass, then in the hashtags below it, they will also rank well for the post. . In this way, post interaction increases the number of your followers.
But the second reason why we care about Instagram interaction is the discussion of the audience's relationship with the brand. In fact, as I said in the article " What is a webinar ", the more the audience and users interact with a brand, the closer their relationship will be and the easier it will be for them to shop. So the more we can increase Instagram engagement, the more sales we have.
Learn how to calculate Instagram engagement rate
If you want to calculate the average interaction of an Instagram page, you must first get the average of comments and likes of the last few posts. For example, if the last 20 posts of the page in question have a number of likes between 1500 and 2000 and get between 20 and 30 comments, you can consider the number of likes to be 1700 and the comments to be 25.
Now add these 2 numbers together, divide by the total number of followers on the page, and finally multiply it by 100 so that you can see the result as a percentage. Let me give a detailed example: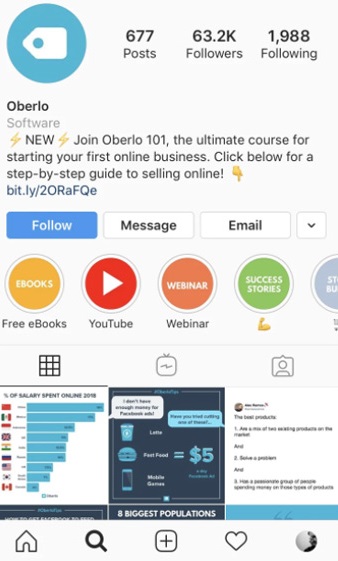 In the picture above, you can see oberlo's Instagram page. According to the information on the account owner's site, each post gets an average of 733 likes and 31 comments.
Tip: To find the average likes of a post, add the number of likes of the last 20 posts and divide by 20. The same goes for comments.
As I said in the formula, we must first add the average likes and comments. So 733 + 31 is equal to 764. After that, we divide the number by the total number of followers, which is 63200. 764 divided by 63200 is equal to 0.012. Finally, we multiply this number by 100. The result is "1.2", which is the number of page interactions.
Calculate page interaction rates with free tools
In addition to the above formula, you can measure the interaction of your page with a number of free tools. For example, the phlanx tool is one of the best tools that can check the interaction rate of your page.
As you can see in the image above, now this tool checks and shows the interaction of our Instagram page.
What is the rate of good interaction on Instagram?
As you can see above, the interaction rate on Instagram is basically around numbers like 1 to 2 percent or even decimal numbers less than 1! You might say to yourself that the pages I have chosen for review and example are probably not good pages and have little interaction.
But honestly, such interactive rates are good statistics, by the way! In fact, on Instagram, an interaction rate of 1 to 3 percent is basically a good rate. More specifically, in the image below you can see the average of a good interaction rate according to the number of followers of the page:
According to the information you see in the image above, in principle, the more followers there are on Instagram, the less interaction there is.
Why do we need to know how to calculate Instagram engagement rate?
Well, you see, in general, we have two goals in calculating the engagement rate on Instagram:
The first goal is probably to see if the interaction rates of our posts and pajamas are good enough for our algorithms to explore and increase our growth. If this is your goal, you should know that no one still knows exactly what formula the algorithms of this social network use to calculate the interaction rate! So do not be too optimistic about this.
But the second goal is probably to check the Instagram engagement rate to buy or sell the page. In fact, one of the factors that you should pay attention to when buying an Instagram page is how much it interacts. Examining the interaction will help you find out, firstly, whether the page you are looking for has a lot of followers or not, and secondly, whether it is economical to buy it at all, or whether you are going to buy a page with a less interested audience?
Why not be obsessed with checking Instagram engagement rates?
Before moving on to the second part of the article, let me first explain this important point to you:
You see, there is no doubt that Instagram interaction is the most important success factor in this social network. But you should note that the methods and formulas for calculating the interaction rate we have are very low accuracy! Because in the best case we can pay attention to the likes, shares and number of followers of the page and use them in the formula.
But Instagram itself pays attention to other statistics such as the number of clicks, shares, views, user retention time on the post, and so on. Now that we do not have this statistic, we certainly can not accurately calculate the interaction rate. As a result, I suggest that instead of focusing on calculating the interaction rate, just think of techniques to increase it.
Learn techniques to increase engagement rates on Instagram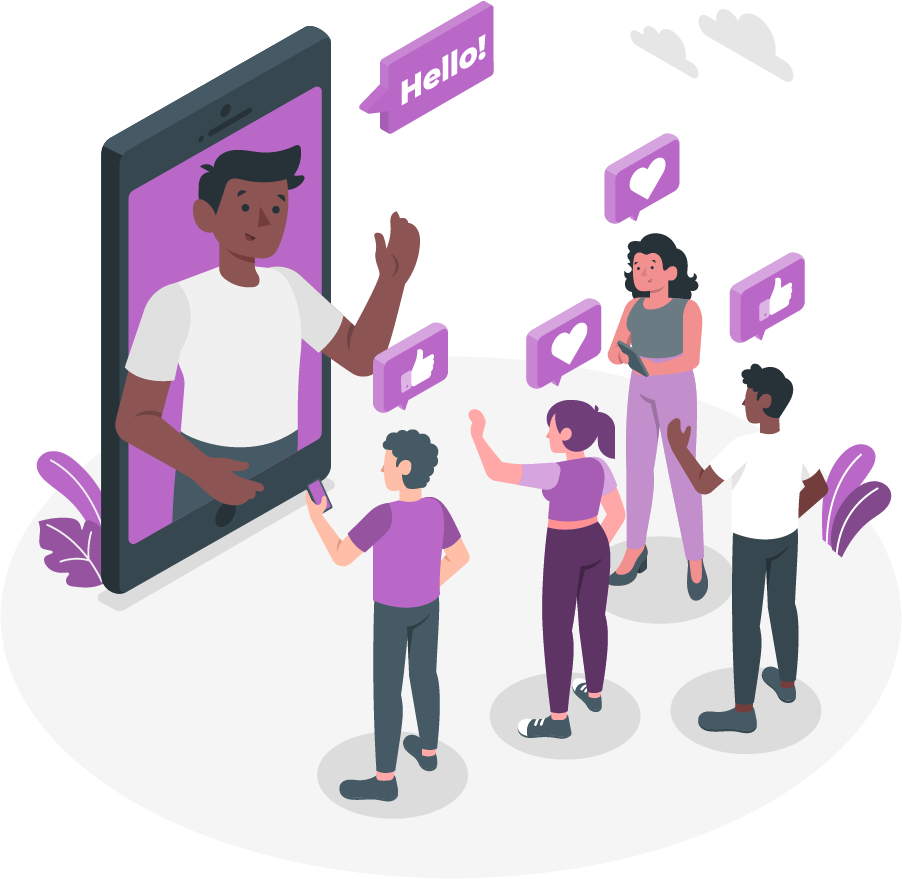 Well, by now you have learned practically everything you need to know about Instagram engagement rates. So let me go to the main part and teach you the techniques of increasing Instagram engagement.
1_ Create a multi-slide post
According to various researches on Instagram, multi-slide posts are much more efficient than single-slide posts. For example, experts from the hootsuite site found that multi-slide posts on their Instagram page attract more than 3 times more interaction.
Especially since recently Instagram has been showing multi-slide posts of some pages to users twice in the home section instead of once.
2_ Pay attention to the design of the images
It may seem trivial, but in any case, Instagram is a visual medium, and if you are careful, your competitors are working hard to design attractive images.
Due to this, publishing a series of images with a less attractive design can not have a good end result. So I suggest you spend a lot of time designing images as well as video covers. A professional graphic designer will definitely help you a lot in this regard.
Note: Very crowded images get less attention from the audience, so create attractive images at the same time.
3_ Get help from the video
Earlier in the article " Video Marketing " I talked in detail about the value of videos and their great impact on Internet marketing. But when it comes to marketing on Instagram, you should know that videos play a much bigger role.
According to statistics published on the ad espresso site , videos on Instagram attract about 38% more interaction! That's why most large Instagram pages today spend most of their time producing video content.
Note: When making a video on Instagram, pay close attention to the video cover, the first 15 seconds of the video and the request you have from the user at the end of the video (request for sharing, etc.).
4_ Do not write duplicate captions!
One of the interaction factors that Instagram algorithms themselves pay attention to is the amount of time users spend on your posts. This means that if you can engage your audience with caption reading in addition to the image or video, your chances of success increase.
But how do we do that? Well, I think the most important thing is not to write duplicate captions like most pages! In fact, if you look closely, many Instagram pages write text in captions that is practically repetitive with the concepts seen in the image or video itself and has nothing new to say.
But if you write the text of the caption along with another interesting subject, the probability of it being read increases. For example, if the post is a video about how to make coffee with an espresso machine, write a description in the caption about the power of this machine, its price, year of manufacture or … In the article " How to write an attractive caption for our posts?" We have said other things about captioning that will definitely come in handy.
5_ Create storageable content!
You see, Instagram is generally a social network for publishing content that is seen in a short time and entertains the audience. But at the same time, it can be used for education, provided that the educational posts you publish have a short time and can attract the impatient Instagram audience.
But sometimes you are allowed to publish content without worrying about time. When? When you are sure that the subject of the post is really attractive and its attractiveness makes the audience can not pass it easily. (For example, a 10-minute video about Sorena's war with the Romans in the Parthian dynasty)
Often, long or even short educational content that is very important and that the audience can not keep in mind is stored by users. And well, this post storage also enhances your page engagement. To produce appropriate content, I suggest that you read the article " Complete site and Instagram content production checklist " .
6_ Live
You see, most of the techniques I have described so far will make your audience more engaging with your post. But live is one of those techniques that increase the connection and friendship of users with your brand.
If users become more connected to your brand, you have practically turned them into people who go to Instagram to view your posts and connect with your new content anyway.
So be sure to hold 1 to several live Instagram posts a month with different topics, try to have a friendly relationship with the audience in them, use small and large verbal jokes to improve this relationship, and be sure to dedicate a part of the live to questions and answers. .
7_ Share happy content
I do not know if this is just about Iran or the whole world, but I do know that happy and musical content is heavily shared on Instagram.
Of course, I do not mean to publish an Iranian song on your page tomorrow, but I mean videos or animations that have been made specifically for your brand with attractive songs.
8- Do not expire your posts
You see, unlike a website where you produce an article, the article is ranked in Google and always attracts visitors, your content on Instagram is very rarely seen after publication. Because basically, the audience sees a few posts at the beginning of the page and the previous posts are no longer noticed.
Now, the interesting thing is that sometimes producing content on Instagram takes even more time than producing content on the site! With that in mind, I suggest you don't let the effort you put into a post get lost so easily and quickly. How about Well you have 2 ways:
The first way is to republish popular posts in the story section after a while and ask the audience to view them. In this way, new audiences, as well as audiences who have not seen the post before, go back to it, and well, their interaction increases.
The second way is to republish the post on your page at all! In this case, if the post is attractive, it may be considered again. (Do not use this technique too much.)
9_ Learn how to work with story capabilities
Instagram story is one of the most attractive features of this social network, and Instagram itself is constantly adding new features to it. If you know how to work with stories, you can be very successful in attracting and increasing interaction. For example, using the capabilities of polls, questions and answers, etc. can both make the audience more interested in you and that you get more contact with them.
In the article " What is a story?" How to increase followers and sales with stories »We have explained in detail about Instagram stories and its impact on various businesses.
10_ Campaign before publishing the post!
In my opinion, one of the most important techniques to increase Instagram interaction is to go on a story campaign. what does it mean? In this technique, before you publish a post, you first post a story string on the subject.
For example, in a history education page, a series of stories about when ISIL came into being and what activities it had in the world? Now in the middle of this story or at the end of it, publish your new post on "Who is the leader of ISIL" and publish this post in the story.
In this way, first of all, the minds of the audience are ready and even curious to see such a post. Secondly, you have been able to bring more audiences with you with the help of the story, and suddenly you encourage them to read the post. Ultimately, this will greatly enhance the interaction between Instagram and your post.
11_ Act on Instagram yourself
Another tip: Activate yourself on Instagram to attract more interaction. This means going to your contact list from time to time, viewing their stories, commenting under their posts, replying to their stories, and so on.
In addition to showing Instagram that you are an active account, this will help you become known as a popular brand and better connect with your audience.
12_ Help with Instagram Insights statistics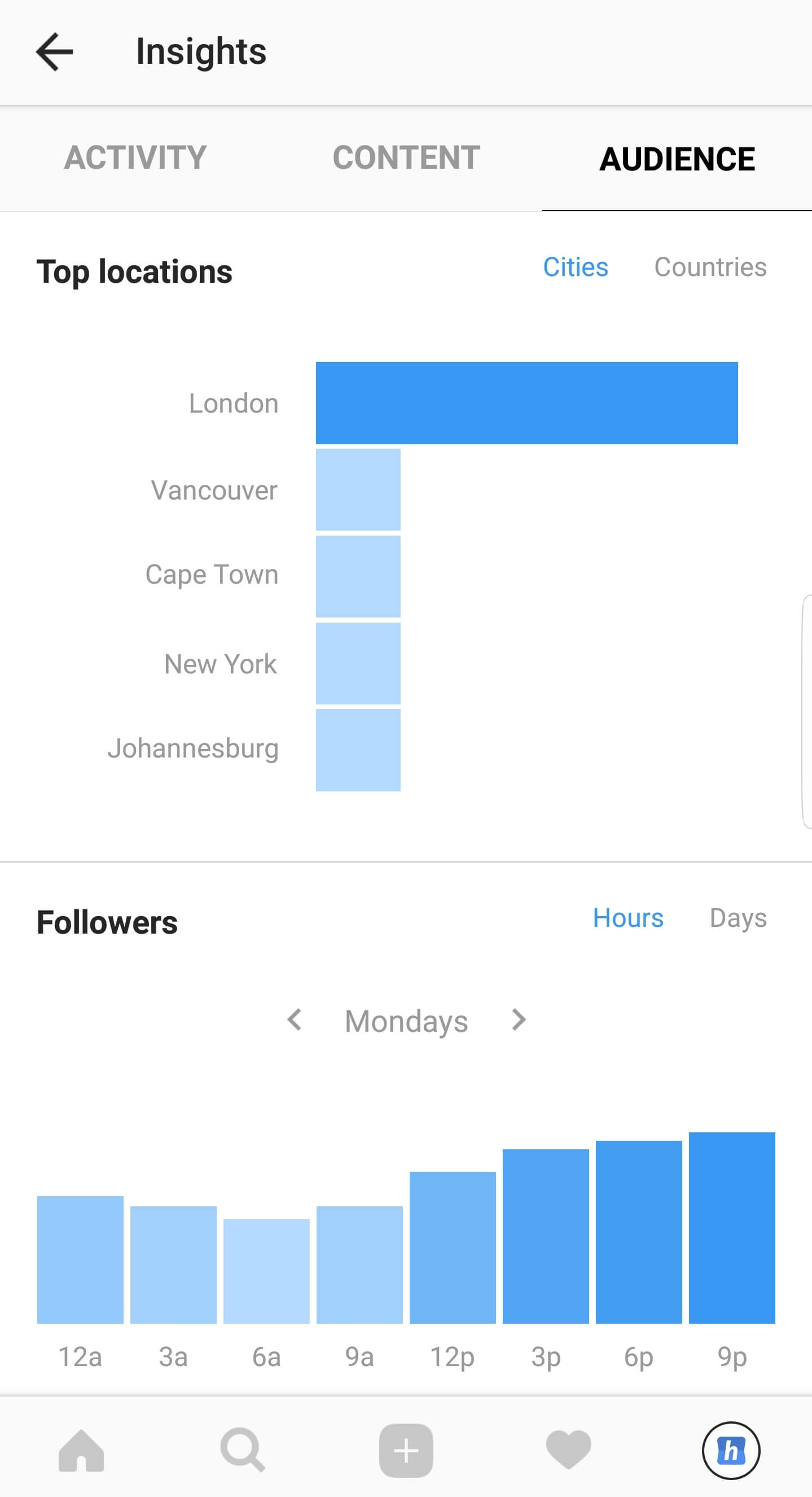 Photo caption : Insights information on Instagram tells you what gender your audience is most? What time of day do they operate? Which content do they like and ….
If your account is a business and you have more than 100 followers, Instagram in the Insights section gives you some important statistics. What time of the week your followers are most active, what hours they are most on Instagram, etc. In fact, according to these statistics, you can more easily identify your audience and publish content in a way that gets more attention.
Higher engagement rates increase revenue
In the article " Instagram marketing training and Instagram retrieval ", we told you that Instagram plays an important role in increasing product sales. If you work on Instagram, more customers will get to know you. Now to sell the product to these customers, you need to increase your page engagement rate. Whether you are a blogger or have set up an online store on Instagram, a high engagement rate means the success of your business. A high engagement rate means that your audience engages with your content, and that means you are on the right track.
As a final word; If you are using Instagram as a way to grow and increase the income of your business, I suggest that you design your site and internet marketing with a small budget. Because if you work properly on the website, the sales statistics will go up well and you can get a good return from it.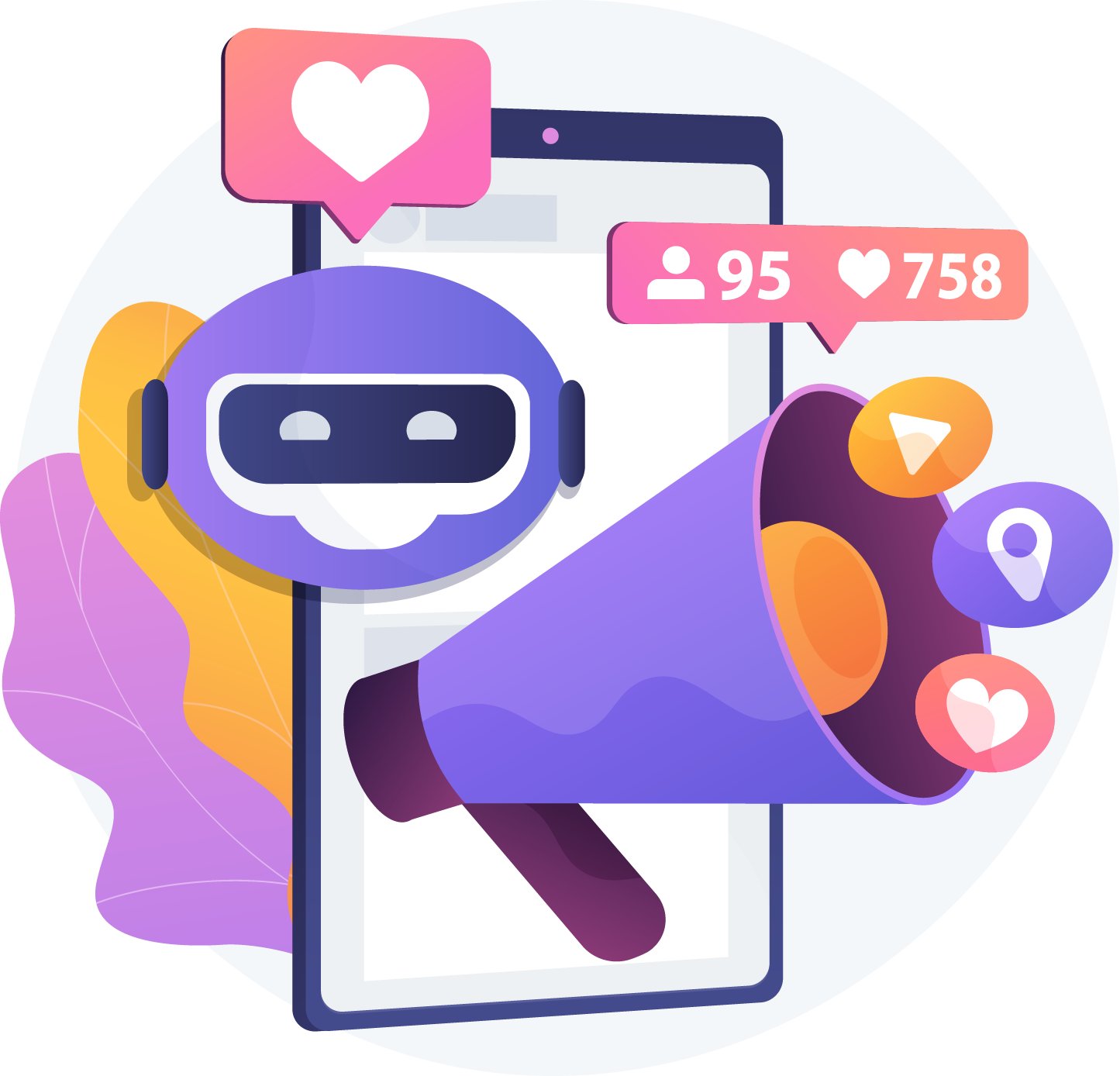 If you would like to just try to buy website traffic and the site builder page in the portal and get a professional site delivered in less than 2 minutes by selecting the desired template. In addition, you do not need to pay any fees to build this site for up to 7 days.
Well, we come to the part where we talk about the middle ground. In this article, we found out what Instagram interaction rate is, how it is calculated and how we should increase it. Finally, if you know a solution to increase Instagram interaction that is not introduced in this article, I would be happy to introduce it to me and the rest of the audience in the comments section.